I start off using my classic American buttercream as a base, which is insanely easy to make.
Next, I add my two secret ingredients – black cocoa and black gel food coloring.
The finishing touch to my black frosting recipe is the magic of time!!
That last line sounds hokey, I know. As I typed it, I couldn't help but chuckle!! But I swear, letting this frosting sit is a sure-fire way to deepen its color.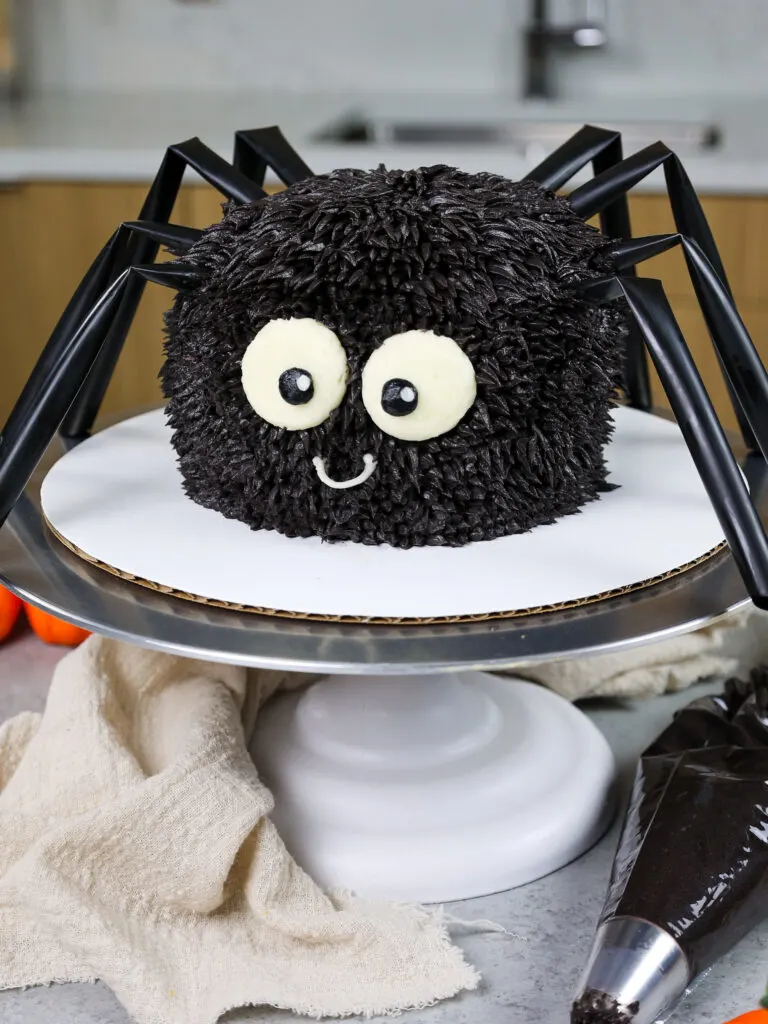 Tip #1: Use Black or Dark Cocoa
Turning white buttercream black is incredibly hard. Starting off with a naturally darker colored frosting base makes it so much easier.
How do I naturally color my buttercream before adding in the gel food coloring?! Black cocoa and dark chocolate, my friends.
You can probably tell from recipes that I am obsessed with black cocoa. I love its flavor and its color.
Black cocoa has a slightly higher pH than Dutch-processed cocoa (8 vs.7) and is much less acidic than natural baking cocoa (5-6).
This gives it a bittersweet, chocolaty taste like an Oreo cookie! It's absolutely delicious.
It also has a beautiful dark color, which helps build the perfect chocolaty base for this black frosting.
It can be hard to find in grocery stores, so I order mine on amazon. My favorite brand of black cocoa is Wincrest. I've been using it for years and get it in 2 lb. containers because I use it so frequently.
Tip #2: Use Black Gel Food Coloring
Next comes the necessary evil, some food coloring. But I'm not talking about generic, black liquid food coloring.
Liquid food coloring can also throw off the consistency of your frosting if you add too much.
When coloring frosting, gel food coloring is a must. Especially if you're after super vibrant or deep shades, like black.
Gel food coloring is more concentrated than liquid food coloring so you can add less and still get the dark color you're after!
I use Americolor super black gel food coloring or chef master coal black, which I purchase in big bottles from Amazon.
Black gel food coloring is the perfect addition to my black cocoa buttercream.
You get a frosting that is a wonderfully deep shade of black and tastes like Oreos and chocolate.
Alternative Black Food Coloring
Powdered food coloring is less commonly used, but is another wonderful way to make black frosting.
This black powdered food coloring isn't expensive, and you can order it on Amazon. The biggest benefit to using it is that it has NO bitter aftertaste. The only downside is you need a lot of it to make black frosting.
There also are some great natural black food colorings like squid ink or activated charcoal. If you're looking for a natural way to make black buttercream, I suggest trying one of these.
Tip #3: Make It In Advance
My final trick to making black frosting is to make it ahead of time. Yes, time is my biggest secret!!
If you make the frosting a couple days or more in advance, the color of the frosting will get darker over time! I swear it's magic.
This buttercream can be made over a week in advance and stored in the fridge until it needs to be used.
I take the frosting out of the fridge the night before I need it to allow it to come to room temperature.
As it thaws and sits at room temperature for a few hours it deepens in color.
Tip #4: The Microwave Method
If you follow my tips above and your buttercream STILL doesn't look as dark as you want, don't worry.
I have a quick fix that is guaranteed to the leave you with deep black buttercream. I like to call it the microwave method!
Scoop 1/4 cup of the finished buttercream into a microwavable bowl. Add additional gel food coloring and mix until the frosting reaches the the desired color.
Then microwave the frosting for 5-10 seconds. The frosting should be runny but deeper in color. Mix this back into the full bowl of frosting and you should achieve a deep black color.
I like this method because it always works and is a quick way to make dark frosting. The only thing I don't like about it is that it changes the consistency of your frosting.
If you end up doing using this method, let your frosting sit for about 30 minutes before you use it to allow it to thicken back up.
Give Your Frosting a Good Stir
I have one important piece of advice around making frosting in advance.
As buttercream sits and/or thaws, it usually gets tons of tiny air bubbles in it! Don't worry, you'll be able to make your buttercream smooth again. All you need to do is give the frosting a really good stir with a rubber spatula.
Work the frosting slowly from side to side. Focus on spreading it across the sides of your bowl for a few minutes.
It's definitely an arm workout. But after working the frosting around the bowl and pushing out the excess air, you'll be left with silky smooth frosting.
Thank you to Chelsea from Chelsweets.com for sharing this recipe.